OIT works hard to give us internet and computer services on campus. Despite their best efforts, problems do occur. You are probably familiar with the normal error messages like ?404: file not found? or ?this program has preformed and illegal operation? but on campus OIT has implemented some new error messages.
This first one I found while surfing the web:
This one came about when I went to take a test on Blackboard: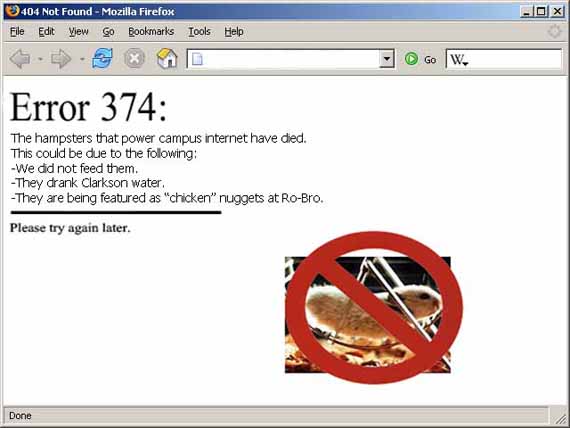 I tried to bring up the calculator in the CEC lab and I got this error:
Apparently OIT has added a new feature to Microsoft Word on some of the computers in CAMP.
Admin Login
The Knight is in no way associated with anyone or anything. We are not an official Clarkson website. The ads on this site are probably fake, and if you take them seriously then there is something seriously wrong with you, seriously. But seriously, don't take anything from this site, that would make us angry. And if you make us angry, all it takes is one phone call to have Wick on you like butter on bread. Or a super advanced robot from the neo-facist future on bread, whichever you prefer.
If you spot any anything wrong with the site, please email the
webmaster
so that he may use his web mastery to fix it.