The following are shocking club flyers that were approved and funded by CUSA for the 2004-2005 academic year. Note this shocking fact, as well: we here at The Knight can?t even afford to buy our own underwear. (We rely on handouts).
The Readin? Klub concentrates on difficult works like Babar, The Tickle Book, and the Clarkson Integrator. Look for hot topics with guest speakers each week. Next week, join the Readin' Klub for an acclaimed look at "The Alphabet".
The KKK Club gained 50 members within a week before anyone figured out that they were in the KKK and not some kind of free pizza buffet. Ten members left indignantly, but the rest couldn?t be bothered to stop filling their gaping maws.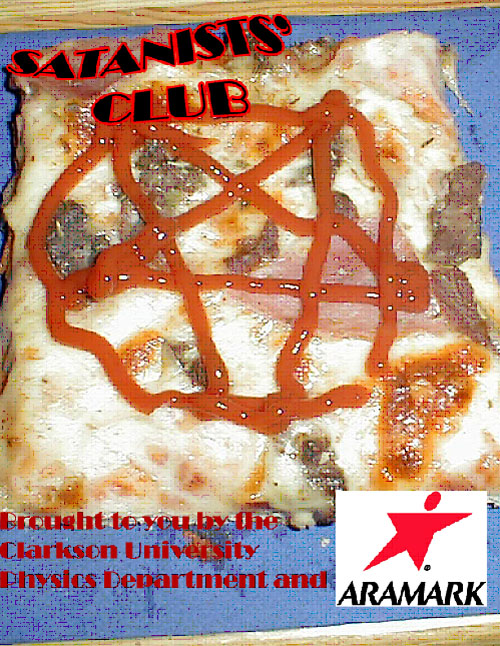 Sponsored by the Physics Department and ARAMARK Managed Services, The Satanists Club was actually founded by breakout actor/director Kevin Saccoccia of ?Fall Break? and ?Fall Break 2? fame. Unfortunately, the club collapsed under his massive girth.
These failed clubs will live on as integral stepping stones in Clarkson?s storied history. Here, they will be remembered forever.
Admin Login
The Knight is in no way associated with anyone or anything. We are not an official Clarkson website. The ads on this site are probably fake, and if you take them seriously then there is something seriously wrong with you, seriously. But seriously, don't take anything from this site, that would make us angry. And if you make us angry, all it takes is one phone call to have Wick on you like butter on bread. Or a super advanced robot from the neo-facist future on bread, whichever you prefer.
If you spot any anything wrong with the site, please email the
webmaster
so that he may use his web mastery to fix it.