A Guide to Using Peoplesoft
The Peoplesoft web application features a way to fuck up your class schedule 24 hours a day, 7 days a week. It uses a super secure PHP interface to ensure top level security for its clients. In fact, Peoplesoft's interface is so secure that it prevents your web browser from performing any basic functions. For example: pressing your browser's back button crashes the program and locks the user out. This flow chart will help you get the most of the pain and suffering out of your Peoplesoft experience.
First, start by finding Peoplesoft at the clarkson.edu website. This should be easy unless the webpage has been redesigned. If this is the case begin by randomly clicking each pixel of your screen until you arrive at the login screen. Click student or faculty self help accordingly. Employees of campus safety, Aramark, and OIT may login via the "Shitweasel" login page. (See finding hidden pages for more on that.) Once you are in Peoplesoft use the following flow chart to sign up for classes.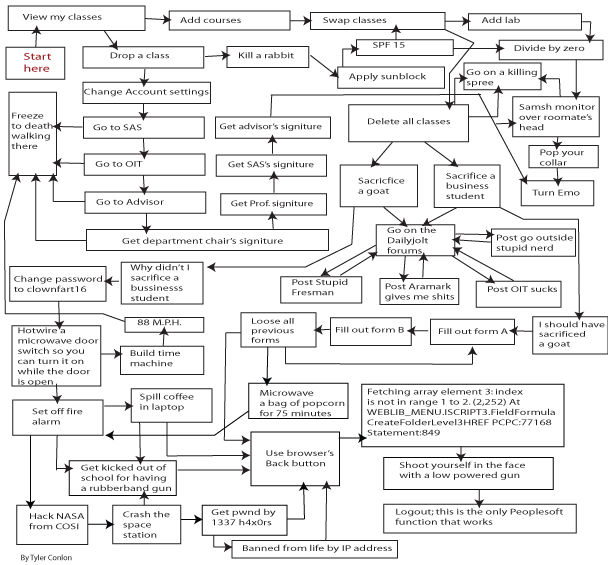 Admin Login
The Knight is in no way associated with anyone or anything. We are not an official Clarkson website. The ads on this site are probably fake, and if you take them seriously then there is something seriously wrong with you, seriously. But seriously, don't take anything from this site, that would make us angry. And if you make us angry, all it takes is one phone call to have Wick on you like butter on bread. Or a super advanced robot from the neo-facist future on bread, whichever you prefer.
If you spot any anything wrong with the site, please email the
webmaster
so that he may use his web mastery to fix it.